Yeah, the serpent theme definitely comes up a lot, and there's a good reason for that which I'll come back too. But yes, this is another point of "pagan parallel" with Christianity too, for remember, Jesus himself likened himself to a serpent when he said just as Moses lifted up the serpent on the staff in the wilderness so must Jesus be lifted up on the cross. Hence why you can find much xian iconography depicting things like this-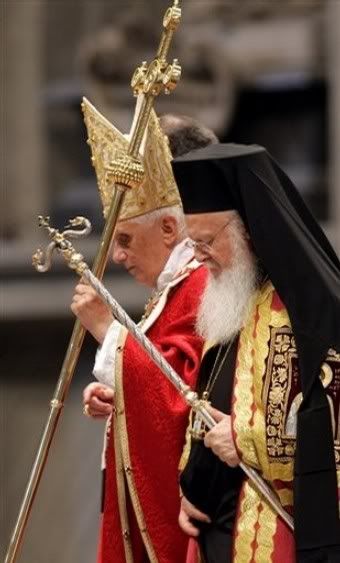 And even the serpent on the staff for healing can be seen in iconography of Aesclepius and other pagan gods of the healing arts, hell, that's why the modern iconic medical symbol is the caduceus-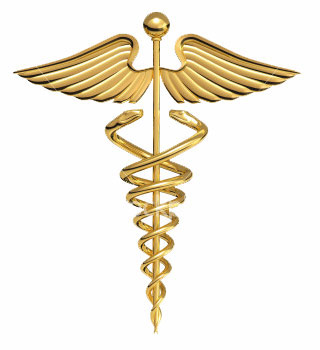 Now, I can already hear the apologetic contention that this would post date Moses, but Moses himself was allegedly raised in Egypt, where we DO find pre-judaic iconography of...
the serpent on the staff.
In this relief dated to the 12th dynasty, 1991-1962 BC, thus far PREdating the Old Testament, Horus is giving the cross of life to his Ba, while behind it there is...
a serpent lifted up on a staff
.
(It's Amenemhat I on the right as the Ba of Horus, wearing the crown of Egypt, and being given an ankh by his son, who is now the new Horus and new King of Egypt. The uraeus snake is upon a Was scepter, with a Shen ring, a symbol for eternity, around its neck)
-
And another common feature found throughout Egypt that predates Moses & Judaism, is the winged serpent-
LINK
LINK
LINK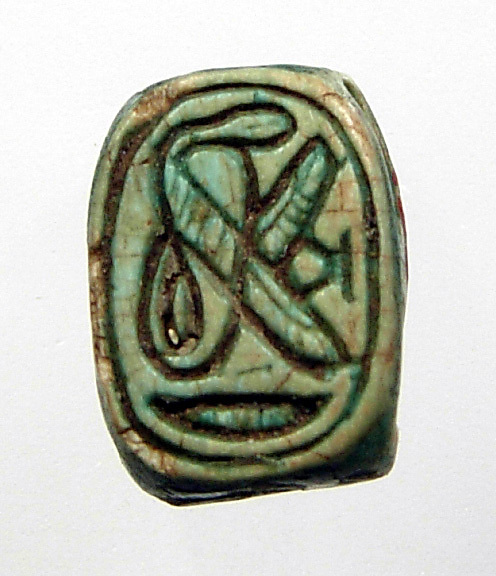 This motif appears to have found its way into Judaism via the concept of the seraphim, a class of angels mentioned throughout the Old Testament, in particular in Isaiah 6:1-3, which surround the throne of yhwh and sing praises to him. A mere Googling for the Strong's concordance entry for seraph[im] reveals that it can be translated as a fiery serpent or even a fire breathing dragon-
http://www.blueletterbible.org/lang/lexicon/lexicon.cfm?Strongs=H8314&t=KJV
Quote:
Isaiah 6:1-3 NASB
In the year of King Uzziah's death I saw the Lord sitting on a throne, lofty and exalted, with the train of His robe filling the temple. Seraphim stood above Him, each having six wings: with two he covered his face, and with two he covered his feet, and with two he flew. And one called out to another and said, "Holy, Holy, Holy, is the LORD of hosts, The whole earth is full of His glory."
But getting back to Osiris, whom you mentioned earlier, indeed, not only he, but evidently, at one point or another, the Ba of all the gods of Egypt had the form of a serpent. As Lois V. Zabkar wrote in his book
A Study of the Ba Concept in Ancient Egyptian Texts
-
Quote:
2. A god is manifested in sacred animals. ...
the Ba of

all

gods is in the serpents
. ... Amun is the "august Ba of the Kematef-serpent." Osiris is the "great Ba of the Kematef-serpent."- p.13
And as for the picture you showed of Serapis[Osiris] & Isis as serpents there-
How fascinating, because allegedly, in 1798, a soldier in Napoleon's army sketched a replication of part of an artifact called the Kerymeion, which depicts Jesus and Mary. And that depiction...
was this-
And on a side note, since you mentioned Quetzalcoatl as well, this imagery is very similar to the depiction of some central American deities as well, so pyramids aren't all their culture has in common with Egypt-
LINK
Now, why is it that serpent imagery is so abundant throughout ancient mythology, especially in relation to the gods?
Well, it's simple really.
It is because, apparently, that was the origin of all religion. The oldest religion in the world seems to to have been African serpent worship and then religion spread out to the rest of the world from there, as did, well, all homo sapiens, since our race originated in Africa as well. This was the thesis of one 19th century scholar, Rev. John Bathurst Deane, as can be read in his book
The Worship of the Serpent Traced Throughout the World: Attesting the temptation and fall of man by the instrumentality of a serpent tempter
, which can be found for free on Google Books by clicking on the title.
His conclusion appears to have been further confirmed by findings since his time, in particular, that of modern archeologist Sheila Coulson and her discovery of the earliest known site of religious ritual which was a stone monument of... a python. You can read more about that here-
http://www.sciencedaily.com/releases/2006/11/061130081347.htm
or you can just Google it, of course.
Now, if you ask me, I think the reason that the serpent in particular was the earliest object of worship was twofold.
One reason, I think, is because it represents rebirth/reincarnation/resurrection due to its ability to shed its skin in whole, which looks like it is being reborn. So the serpent was a perfect natural symbol for eternal life.
However, since, if I recall correctly, the idea of the soul and of afterlife was not always a part of religion and was a later development, I think perhaps the main reason serpents were the earliest object to be venerated is because their form quite conspicuously parallels, and thus became a symbol for, ...
the phallus.
And the phallus truly is our creator. The phallus has given life to every animal on earth(sans parthenogenesis, of course). So it should come as no surprise that the phallus came to be revered and worshiped as our father god, because, mysticism aside, it really is what created each and every one of us.(with help, of course
)
And so, since the serpent's form strongly resembles the phallus, it's only natural that it became the symbol for it.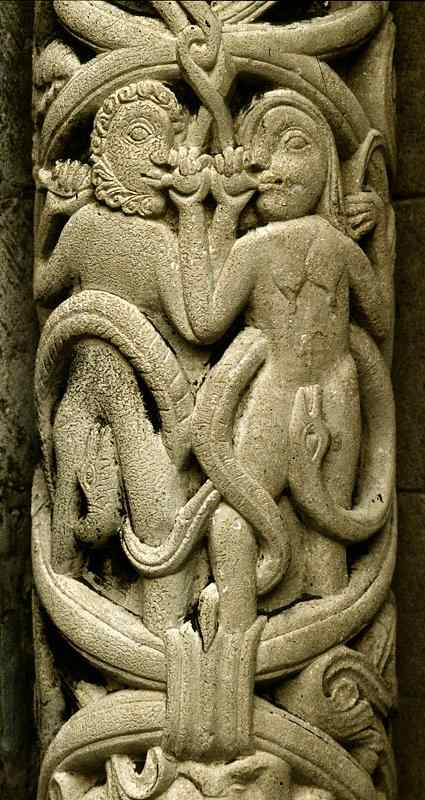 And hence the serpent seems to be an allegory for the phallus in many stories of the divine conception of several "virgin born" gods & demi-gods.
Just to quote a few of examples, the first one I'll mention is Alexander the Great.
According to Plutarch in his work "The Life of Alexander", which you can read here-
http://penelope.uchicago.edu/Thayer/E/Roman/Texts/Plutarch/Lives/Alexander*/3.html
, Alexander's birth was annunciated to both his mother, Olympias, and her husband Philip in separate dreams. They had just been married, and the night before the day of consummation, the obvious implication from that being that Olympias was still a virgin at this point, she had a dream that she was struck in the womb by a bolt of lightning, a common motif for divine conception, as Osiris(as the Apis), Horus, and Dionysus all likewise had versions of their myths in which they were conceived by a bolt of lightning striking their mothers. And interestingly enough, on that point, Olympias was a worshiper of Dionysus. Anyway, Philip saw a serpent in her bed chamber and was thus afraid to consummate with her and rarely ever tried to thereafter. Later on he had a dream that he placed a seal on her womb in the form of a lion. Long story short, the conclusion was that all this meant that Alexander was the son of of the god Ammon(who by way of syncretism was Jupiter/Zeus to the Greeks) and that Ammon was that serpent guarding Olympias and keeping Philip at bay from consummating with her.
So since this story involves child conception, could Ammon's form as a serpent be euphemism for his phallus?
The second example I will give is obviously ripping off the first one, especially since its main character, Augustus Caesar, idolized Alexander and this story even mentions Alexander. Suetonius, quoting Asclepiades the Mendesian, tells us a version of the story of Augustus's conception & birth in his book
The Twelve Caesars
, which you can read here-
http://books.google.com/books?id=9CvSzzK-iwAC&printsec=frontcover&dq#v=onepage&q&f=false
It tells us that Augustus's mother, Atia, fell asleep in the temple of Apollo after performing midnight rituals to him, and then a serpent crawled up to her and left a mark upon her in the form of a serpent. Ten months later, Augustus was born, and it was concluded that he was the son of the god Apollo.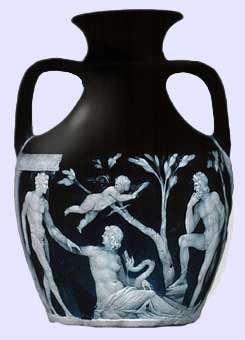 The third and final example I will give is that of the conception & birth of Ericthonius. You can read the various ancient sources about that here-
http://www.theoi.com/Olympios/AthenaMyths.html#Erikhthonios
The story goes that Athena, the celibate & patron goddess of virgins, was about to be raped by Hephaistos, but in an effort to preserve her virginity, she fought him off. He ejaculated anyway, and his semen made contact with her skin. Some versions say it landed on her thigh which she quickly wiped off and threw to the earth. Other versions say she buried it into the earth with her foot. Either way, it made contact with her, which I guess was enough to mingle her dna with that of Hephaistos, because out of the earth itself sprang up her new born son, Ericthonius. In some versions, the earth goddess, instead of the earth itself, acted as Athena's surrogate, and then immediately handed him back over to Athena once he was born. Some iconography depicts him in a humanoid form. Other iconography, however, depicts Ericthonius as...
LINK
... a serpent. A view endorsed by Apollonius of Tyana, a miracle-working itinerant sage who was a contemporary with Jesus & the apostles in the first century C.E. Philostratus tells us that Apollonius was defending the idea that Domitian was likewise a son of Athena, because people were arguing that Athena can't have a son since she is a virgin. But Apollonius reminds them of Ericthonius's virgin birth. But it's interesting how Apollonius describes Ericthonius-
Quote:
You imagined that Athena could not possibly have a son, because she is a
virgin
, for ever and ever; but you forgot, methinks, that this goddess once upon a time bore a
dragon
to the Athenians.
So he refers to this virgin born god as a dragon, eh? So once again we have this serpentine connection in relation to miraculous(or even "virgin") conceptions of deities.
Anyway, I guess that's all I have left to say on the matter. For now.