Sorry, I just had to share this post from another forum because it was so hilariously pathetic, yet typical-
http://forum.bible.org/viewtopic.php?p=109191#p109191
psychobobicus wrote:
Here is a pic of Pharaoh's army drowned: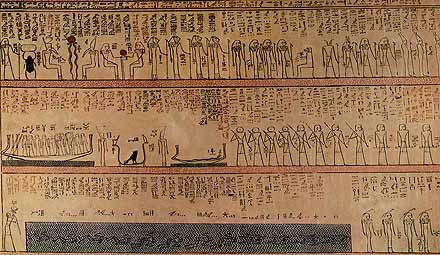 Okay, for the passer-by readers who might be unaware, according to two books I have by Erik Hornung, Valley of the Kings and Knowledge for the Afterlife, this scene is NOT of the Exodus, it is a scene from the Underworld, the 10th division for the 10th hour of the night. The people in the water are people who died by drowning in the Nile, and Horus is retrieving their regenerated and revived bodies so that they can enjoy the afterlife. The Egyptians believed the source of the Nile was the Nun, the primeval waters from which creation arose, and that a stream of the Nun flowed through the Underworld and out into our world as the Nile. People who drowned in the water and their bodies went missing were feared to not have an afterlife because their corpse could thus not undergo proper mummification and magical funerary spells. This scene, from the tomb of Thutmoses III, was to put such worries to rest, the dead who died by drowning, just like how Osiris drowned, would continue to float down stream and sink in the Nun waters that flowed into the Underworld. The creative power of the Nun waters would restore them to life so that when they washed ashore down below they were already good to go.
But the mere fact that this scene is NOT of the Exodus is made clear from...
THE VERY PAGE THAT HOSTS THE IMAGE WHICH THIS PERSON LINKED TO!
http://ib205.tripod.com/kv35.html