Pagan Sunwheels: 4, 8 and 12 Spoked Wheels
Similar to the thread,
Cruciforms/Gods on Crosses
, I would like to compile assorted evidence throughout history of the Pagan Sunwheel in all its forms, preferably pre-Christian images. The 4 spoked wheel represents the solstices and equinoxes, while the 8 points of the compass or 8 spoked sunwheel are precisely what is laid out at St. Peter's Square with an Egyptian obelisk serving as the gnomon of a sundial in the center. These 8 points are the solstices, equinoxes and cross-quarters; 12 represents the zodiac.
If you post an image here please include some data like date, what it is and where it can be located and a link or reference if possible. Please make sure your images aren't to big and fit nicely here too.
Quote:
"Christian structures were built upon the ruins of the Pagan temples, such as in the case of the Vatican, which was founded upon the remains of a complex dedicated to the sun god Mithra..."

- Christin Egypt, page 4-5
St. Peter's Sq.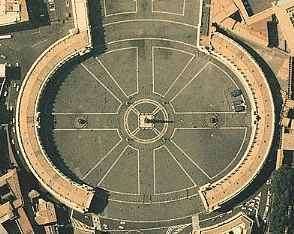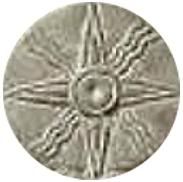 Symbol of the pagan sun-god Shamash and more from
Pagan sun worship and Catholicism the Pagan sun wheel, the obelisk and Baal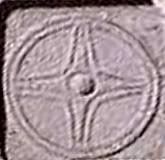 Symbol of Baal found in Hazor, Israel
Mithra surrounded by the zodiac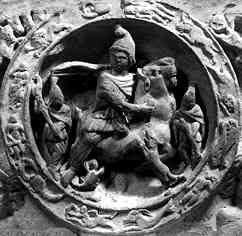 Quote:
"Alexander Jannaeus was the first of the Jewish kings to introduce the "eight-ray star" or "eight-spoked wheel" symbol, in his bronze "Widow's mite" coins, in combination with the widespread Seleucid numismatic symbol of the anchor. These coins are thought to be the ones referred to in the Bible in Luke 21:1-4 "
http://en.wikipedia.org/wiki/Alexander_Jannaeus
Sun Cross